Volume XXII Latest Update: 9:15am Saturday, August 13, 2022
For Twitter news and game scores/updates--->
---
T

his website nor I are associated with Section 4. I operate this website and a Twitter account on my own for the fans, alumni, coaches, reporters and most importantly, the players.




This site will be updated to reflect the 2022 schedules and divisional lineups about a week into the preseason.

This is due to changes in that information that always happen in the week after practice starts. site e site is fully updated reflecting the New York State Football Championship results.





Congratulations to Tioga, Chenango Forks and Maine-Endwell for winning State Championships this weekend!

It is the first time Section 4 has won

three titles the same year

, a feat only achieved by three other Sections 2, 5 and 6 (who actually won four...twice!).

New page linked above. State Playoffs by Class. This new page is a small table that easily shows what school won the state titlein each class each year. It includes totals by class for each section and which section won the most titles each year. Look for "Class" above, next to the flashing red checkmark.



As usual

, the links above appear to be quite stubborn. If you have a problem getting them to work, please read the text in the yellow block above. I am not actively searching for a solution at this moment. It's best to right-click on a link and open in a new tab.
~~~
---
~
#DAF1C1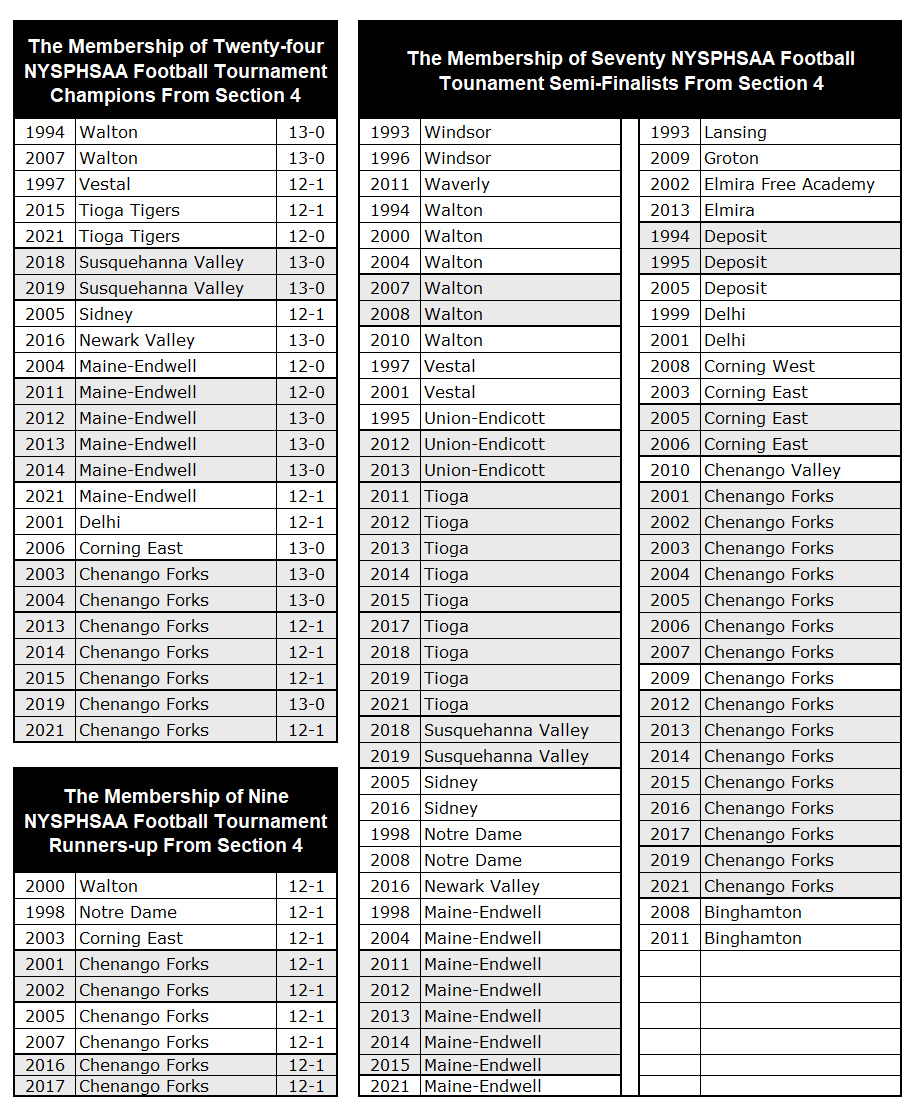 ---
Text Message
Contacting to Section4football.com
If you have an iDevice (iPhone, iPad, Apple Watch etc), you can send me a text
iMessage
to mike@section4football.com

While you CAN of course email me at that same address, this is a feature with Apple devices that you can

send a TEXT message to an email address

if the recipient has their iDevice set up for it. I do have mine set up.

This can come in handy to report scores quicker than ever.

In regards to that - reporting scores -
all I ask if for is

100% COMPLETE accuracy

.
Please do not report unless you are 100% no-doubt-about-it certain.

Please, do not send "I left with 0:34 left and it was 27-0" or "My uncle said it was 24-17".

I prefer you saw it with your own eyes at the end of the game.

Of course you can iMessage me this way for other reasons related to Section 4 Football or the website.
However,

unless you are sports news media

,

please do not text me looking for scores

. I will be tweeting scores as they are finalized.
Check out the enhanced State Playoffs page
that shows how each participant has doe through the years in the "state" playoffs. Enhancements include overall W/L record, how many times each school has been in each round, titles won and various team records. The page is
here
. There is also the page that shows the scored of each game every year since the inception in 1993. That page is
here
.
State Rankings
Full rankings at roadtosyracuse.com, begin the Tuesday afternoon following the second week of the season and will be updated each Wednesday morning the rest of the season.
---
Number Of Football Teams In Each Section By Classification
(teams either in that class in size or are playing up or merged teams playing down in that class)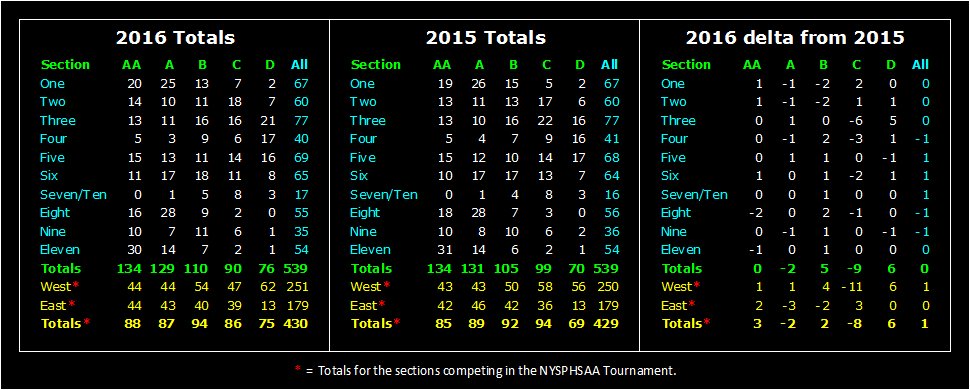 ---
---