T

his website nor I are associated with Section 4. I operate this site/Twitter account on my own for the fans, alumni, coaches, reporters and most importantly, the players.


For Tweeted (I refuse to call it X) news, game scores etc CLICK on the

Follow

button to the right.


Note, the embedded Tweet function to the right

is not working properly on most browsers on devices and computers showing two year-old Tweets

. I am having a difficult time getting it fixed, and I'm really ticked off about it! Hopefully soon.




---


~~~

---

Due to computer issues, occasionally I might not be able to update until Sunday mornings.

---

As usual, the links above appear to be quite stubborn. If you have a problem getting them to work, please read the highlighted text below. I am not actively searching for a solution for the time being.



You can always right-click on a link and open in a new tab. However, on a handheld device if the links above left do not work, hold your tap until "Open in New Tab" (or similar) or "Request Desktop Site" pops up.




Similarly,

if they do not work on a PC, right-click and open in a new tab

. If the bottom appears unupdated, right-click near the right edge and select "reload frame"
~~~

---
~
#DAF1C1


~~~
~~~
~~~~
~~~~
~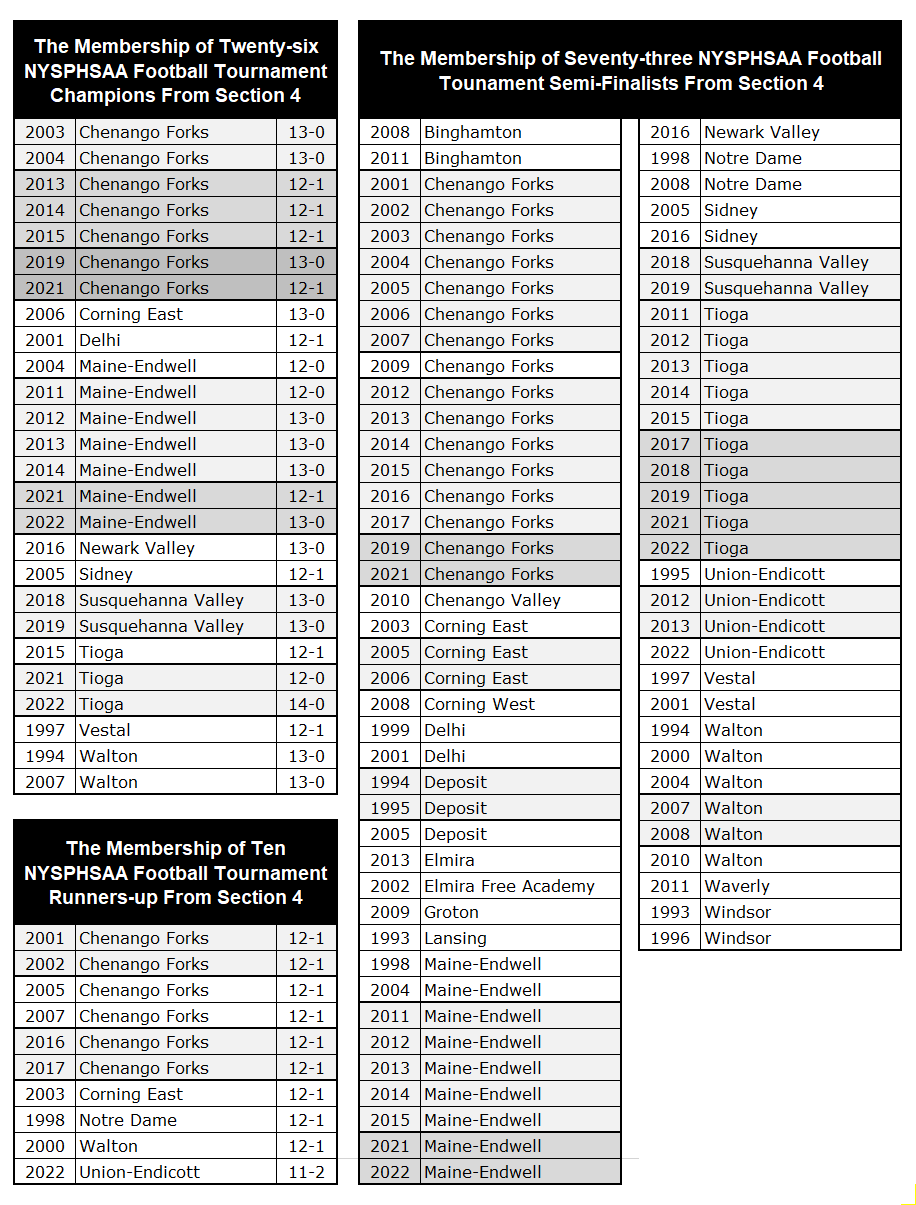 ---
Text Message
Contacting to Section4football.com
If you have an iDevice (iPhone, iPad, Apple Watch etc), you can send me a text
iMessage
to mike@section4football.com

While you CAN of course email me at that same address, this is a feature with Apple devices that you can

send a TEXT message to an email address

if the recipient has their iDevice set up for it. I do have mine set up.

This can come in handy to report scores quicker than ever.

In regards to that - reporting scores -
all I ask if for is

100% COMPLETE accuracy

.
Please do not report unless you are 100% no-doubt-about-it certain.

Please, do not send "I left with 0:34 left and it was 27-0" or "My uncle said it was 24-17".

I prefer you saw it with your own eyes at the end of the game.

Of course you can iMessage me this way for other reasons related to Section 4 Football or the website.
However,

unless you are sports news media

,

please do not text me looking for scores

. I will be tweeting scores as they are finalized.
Check out the enhanced State Playoffs page
that shows how each participant has doe through the years in the "state" playoffs. Enhancements include overall W/L record, how many times each school has been in each round, titles won and various team records. The page is
here
. There is also the page that shows the scored of each game every year since the inception in 1993. That page is
here
.
State Rankings
Full rankings at roadtosyracuse.com, begin the Tuesday afternoon following the second week of the season and will be updated each Wednesday morning the rest of the season.
---
---
---